As a PhoneMondo Reseller, you can start selling PhoneMondo to your customers right away and earn money very easy. You will get at least 20% of all PhoneMondo revenues from your customers that bought PhoneMondo on your advice.
You can refer PhoneMondo in any way you like, be it by calling them or sending marketing promotions to your clients. We'll help you build powerful and successful campaigns. Use our marketing material like texts, images, presentations and videos to promote PhoneMondo.
And the best is, your revenue share is permanent: so when your customers extend their PhoneMondo subscription later, you'll get constant income forever!
How it works
Just register using the button below and we'll add you to the PhoneMondo Partner Program. You'll get a unique URL for your customers to register for PhoneMondo. This URL makes sure that the customer is tagged as "your customer". Any time later when the customer buys a PhoneMondo Professional subscription, the commission (at least 20%) is added to your Partner Account. Once these commissions reach 100 EUR, we'll pay you these commissions at the beginning of the next month. If your accumulated commissions don't yet reach the 100 EUR limit, it's stored and transferred into the next month.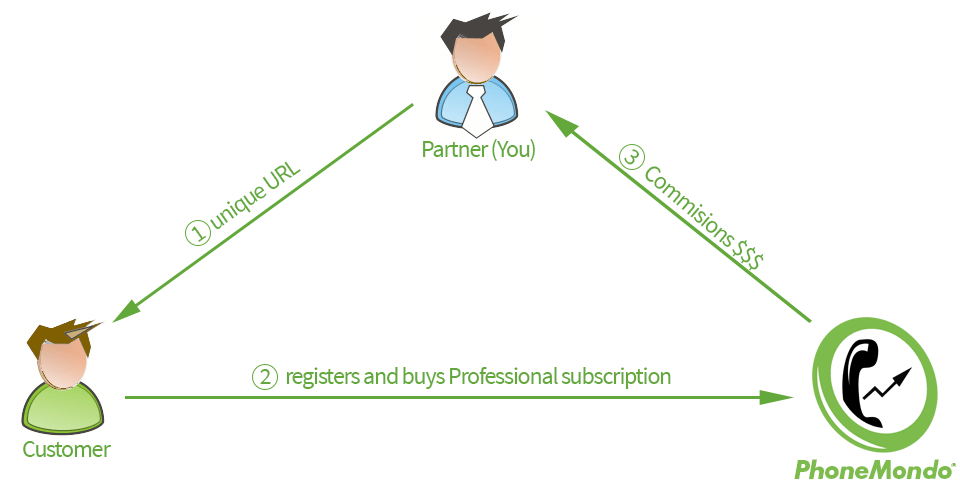 Register for the Partner Program now
Become a PhoneMondo Reseller Partner today and start earning with every customer you recommend PhoneMondo by signing up for free: