Anrufanzeige
Instant CallerID Notification
PhoneMondo shows on the first ring of your phone who's calling you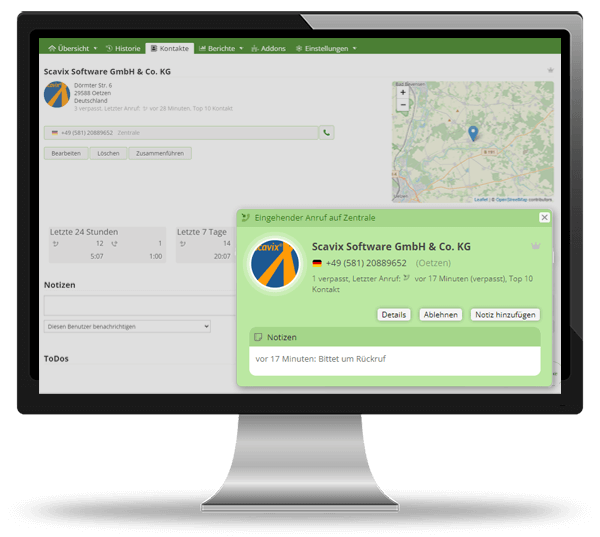 Berichte
Reports And Statistics
Your call history shows all your calls. Reports and statistics shows detailed information about your phone usage in your company and where this can be improved (i.e. too many missed calls)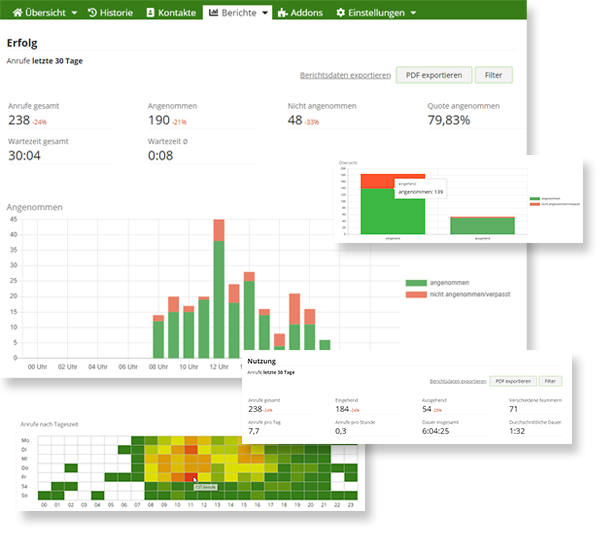 Spamblocker
Stop Spam Calls
PhoneMondo can block unwanted spam calls: either automatically through spam information from the internet or your own personal block list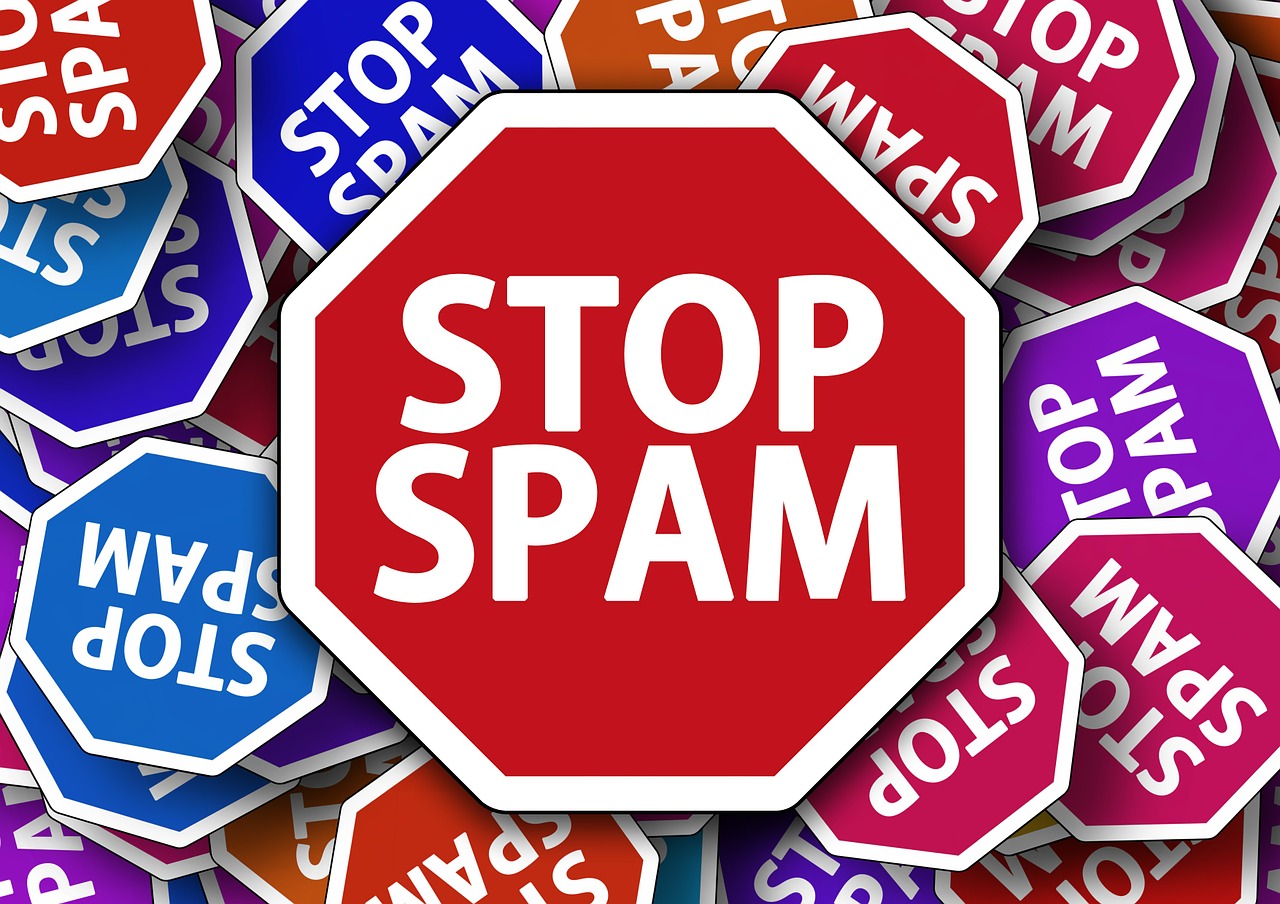 Features
CallerID Notification
See on the first ring of your phone, who's calling you
More Information About The Caller
PhoneMondo shows data from your CRM, online shop, Outlook or other system for the caller. If no contact was found, it'll look up the callerID in online phone number directories to show the name and location of the caller
Spam Call Blocker
Never get called by spammers again: if PhoneMondo identifies the caller as spam caller, it can block the call immediately
Call History And Reports
See all your calls in the call history in PhoneMondo. Get detailed statistics and reports to identify optimization possibilities in the phone usage in your company
Start Phone Calls By Click-To-Call
With PhoneMondo, you can start calls via click2call or dial a phone number by selecting it an pressing a hotkey
Cloud-Based
No complicated installation, no servers nor databases needed! See callerID-notifications on your laptop or Android phone if someone tries to call you in the office while beeing anywhere in the world
Supported Phone Systems/PBX
PhoneMondo needs a connection to your phone system/PBX to get notified when the phone rings and to be able to start calls on your phones. PhoneMondo supports different phone systems:

Tapi: PhoneMondo supports nearly all Tapi 2.1 drivers from any PBX manufacturer

PhoneMondo can be connected directly to sipgate

PhoneMondo comes with a direct connection addon for Placetel (Part of Cisco)

Connect your STARFACE PBX via our module for that PBX (local or cloud instance)

Directly connect your Webex Calling with PhoneMondo

With our module for Asterisk, you can connect your PBX directly to PhoneMondo

The AVM FritzBox Addon connects your FritzBox to PhoneMondo (Windows required)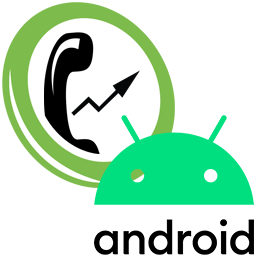 The PhoneMondo Android App connects your mobile phone to PhoneMondo
Addons
PhoneMondo offers a variety of addons to connect your CRM, online shop or other systems to PhoneMondo. This enables PhoneMondo to show extended information about the caller in the callerID notifications on the desktop, in your browser or on your Android phone. These are the available addons:

With our certified Salesforce App, you'll see information for the caller from your Salesforce. Calls are logged in Salesforce as tasks

See detailed information about the caller from your Hubspot
Zeigt Zusatzinfor. Calls are logged in Hubspot as activities if the caller was a contacts

PhoneMondo shows detailed information about the caller from your pipedrive contacts and organisations

Opens the patient file in solutio charly, a very commonly used software for dentists

Get callerID notifications directly in the shopware administration if a customer calls you. Shows contact information and latest orders in the PhoneMondo callerID notifications

Shows contact information, latest invoices and offers from sevDesk, an online accounting software

PhoneMondo imports your contacts from Microsoft Outlook to show them in the callerID notifications. It can also add journal entries for calls in your Outlook

PhoneMondo imports contacts from Mozilla Thunderbird to show them in the callerID notifications

Start phone calls directly from myfactory. Get callerID notifications directly in myfactory
The PhoneMondo windows client shows callerID notification incl. additional data from your CRM and other systems on the desktop.
It also connects your local software and tapi drivers to the PhoneMondo cloud servers

The PhoneMondo browser extensions for Google Chrome and Mozilla FireFox show callerID notifications in the browser and enable you to start calls to any phone number in any website.
The extensions work on Windows, MacOS and Linux

The reverse lookup modue for Auerswald PBX systems shows the name of the caller directly in the display of your phone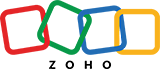 See contact/lead data from Zoho CRM in the callerID notification. Log calls as activities in Zoho CRM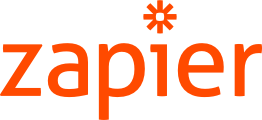 Automate workflows with phone call data and events. Start calls from other apps

See companies and contacts from freshdesk in the callerID notification window incl. their tickets. Create new ticket with a single click from a phone call
Pricing
We offer a free PhoneMondo version so that you can try out PhoneMondo totally worry- and risk-free. No credit card required! You can then decide if you want to leave the wonderful world of PhoneMondo and delete all your data on our cloud servers or if you want to upgrade to the PhoneMondo Professional Subscription.
Free
/ month
Setup fee: 0.00 €
Unlimited callerID notification in real time
Looks up different data sources for information about the caller
Call-data is passed to connected systems
Call history and reports
Android App
Free Addons
max. 100 contacts stored in your account
3 phone lines/numbers monitored
1 User
Call history available for the last 30 days
Support: FAQ & eMail
Professional Subscription
/ month
Setup fee: 0.00 €
Unlimited callerID notification in real time
Looks up different data sources for information about the caller
Call-data is passed to connected systems
Call history and reports
Android App
All Addons
Unlimited contacts stored in your account
Unlimited phone lines/numbers can be monitored
Unlimited users
Unlimited call history stored in the PhoneMondo cloud
Get reports automatically by email
Support: FAQ, eMail, phone hotline & Remote Desktop
All prices shown incl. 19% VAT